Energy Attribute Certificates (EACs)
More renewable energy needs to be produced and consumed in order to limit global warming to 1.5 degrees. By 2030, global CO2 emissions need to be reduced by at least 45%, compared to 2010 levels, and to achieve this, doubling the global share of renewable power is a key factor.
Power generation is responsible for 30-40% of global emissions, of which businesses are responsible for half. By using and producing renewable energy, companies can act on climate, new business opportunities, and meet expectations from investors, authorities and consumers.
ECOHZ is specialized in providing renewable energy solutions through traceability mechanisms. Energy Attribute Certificates (EACs) document that the energy you consume comes from renewable sources. These are Guarantees of Origin in Europe, RECs in North America and I-RECs in a growing number of countries in Asia, Africa, the Middle East and Latin America.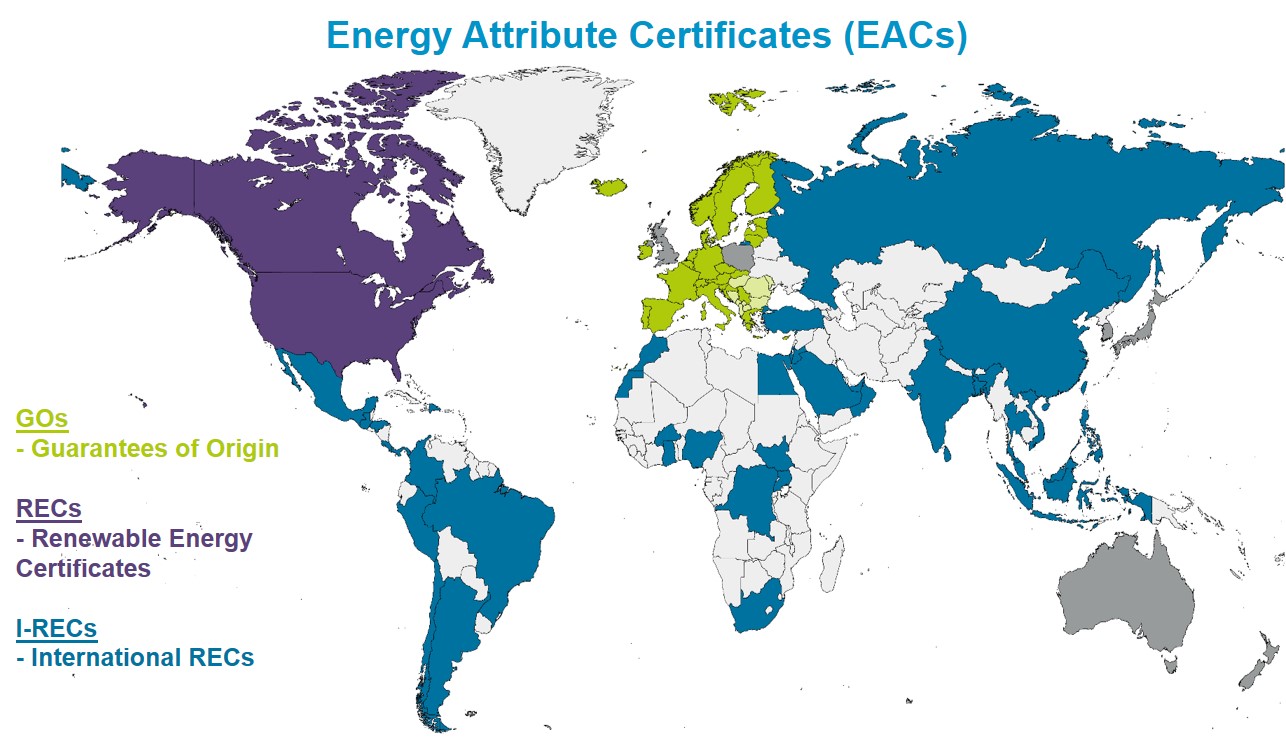 Each EAC represents proof that 1 MWh of renewable energy has been produced and injected to the grid. EAC complies with the Greenhouse Gas Protocol Scope 2 Guidance and is a recognised tool to document electricity consumption from renewable energy sources and to report reduced greenhouse gas emissions. Using EACs is an effective way to improve sustainability rating contributing towards Science Based Targets and RE100 goals.
ECOHZ is the leading provider of EACs serving a portfolio of global customers in global markets.
The EU Renewable Energy Directive from 2009 states that Guarantees of Origin prove to consumers that a given quantity of energy was produced from renewable energy sources. GOs is a purely voluntary system used by businesses, public institutions and households in Europe.
To document and report that the energy you consume in North America comes from renewable energy sources, you must buy Renewable Energy Certificates (RECs). In the US RECs are used both for compliance reporting as well as voluntary consumption purposes.
I-REC is a newer global standard introduced in a growing number of countries where no market mechanism was previously in place. I-REC builds on best practice from the North American REC market and Europe's GO system and has strong stakeholder support. Currently I-RECs are issued in 33 countries for use in a number of regional countries, based on the Renewables Good Practice (ReGP) criteria.
Biomethane (green gas) is renewable gas created from biodegradable material that can be used in the same way as fossil natural gas. Green gas can be produced from a number of sources such as anaerobic digestion, landfill gas and synthetic gas (syngas) from the gasification of biomass. Biomethane is used as a direct substitute for natural gas in the national grids. A Green Gas Certificate is a recognised Energy Attribute Certificate (EAC) by GHG-P and CDP. Consumers can make 100% renewable gas claims and report reduced Scope 1 GHG emissions.
Consuming electricity documented with EACs impacts the energy transition by stimulating more renewable production. International accounting frameworks, such as the Greenhouse Gas Protocol Scope 2, CDP and initiatives like RE100 that work with the world's most influential companies committing to 100% renewable power, encourage companies to go further and create a more direct impact. ECOHZ GO² is an innovative product that creates such impact in Europe. Combining GOs with a financing element allows companies to directly cause new named renewable projects to be built. GO² is accessible and low risk, enabling companies to engage and quickly create energy positive impact.
For 18 years ECOHZ has been a leading company in the European Guarantees of Origin market. This position has provided us with unique insight into the production and sales of renewable electricity, and with an extensive European network of renewable power producers and developers. ECOHZ is set to help existing and new clients navigate through the jungle of renewable producers, and help companies make the move from conventional power procurement to purchasing directly from a power producer, using a Power Purchasing Agreement (PPA). EACs document all grid-connected renewable energy solutions including PPAs.
Recognising that emissions located in the supply chain are on average 11 times as high as those from direct operations, supply chain focus is increasing. ECOHZ has developed a Supply Chain Portal for Renewable Energy. The portal enables companies to involve their suppliers through a simplified procurement process of Energy Attribute Certificates (EACs) across the GO, REC and I-REC standards to match their regional electricity consumption.
Custom choices
ECOHZ has a wide range of renewable energy choices to suit your needs. Here are some examples of pre-defined options.
Technologies
Custom choices
Power plants
Labels and standards
Consume renewable energy meeting requirements of specific standards or ecolabels. Buy Energy Attribute Certificates (EACs) from power plants that meet stricter environmental standards and are verified by an external auditor. Choose between national or international ecolabels and standards, document the age and type of the power plant, technology and unique operational focus, and raise funds for renewable energy projects.