Supply Chain Service
Most of your company's greenhouse gas emissions come from your supply chain. Ecohz' Supply Chain Service helps you address indirect emissions and boost actions to decarbonise your Scope 3.
How it works
Ecohz collaborates closely with your organisation to facilitate all processes related to renewable energy procurement, from sourcing Energy Attribute Certificates (EACs) for your value chain partners to enhancing communication with multiple stakeholders. Further, we provide you with a dedicated, easy-to-use digital platform to engage suppliers in your climate efforts.
What we do for you
We become your strategic partners to simplify internal operations and let you focus on your goals. With our Supply Chain Service, you get:
End-to-end management
We handle the entire sourcing process, from request to cancellation.

Streamlined communication
Ecohz manages all information flows and transactions to become your central point of contact.

Upskilling
Ecohz can educate your procurement teams on the benefits of switching to renewables and conduct webinars for suppliers presenting EACs and the functionalities of the platform.
In-house procurement
EACs and other sustainability solutions are sourced directly from our portfolio, allowing us to guarantee the integrity of the certificates.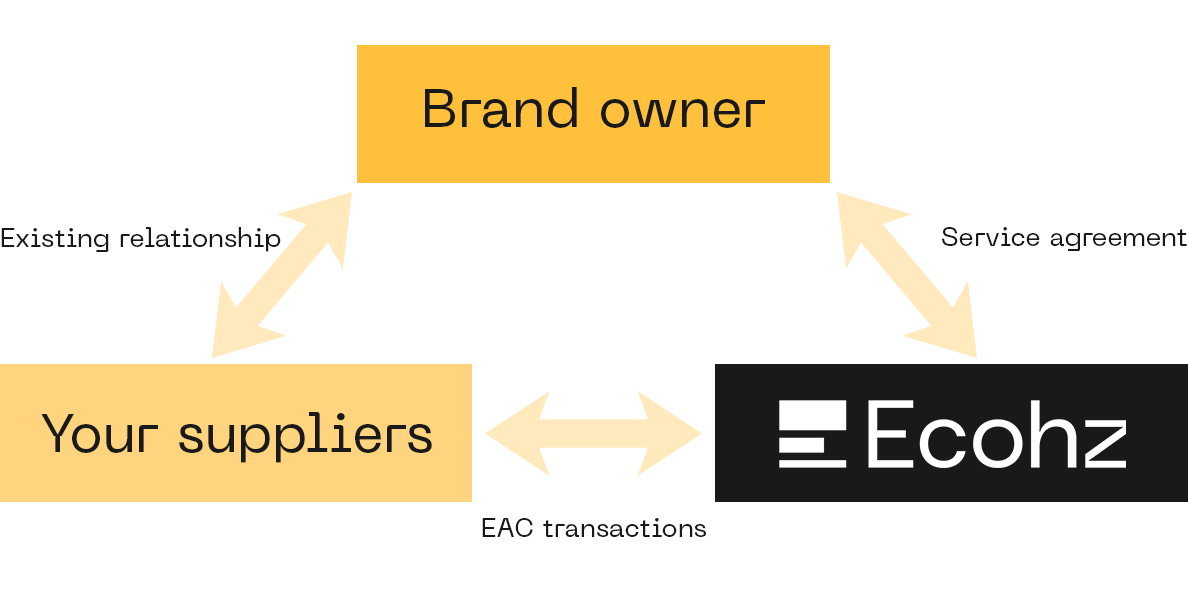 The all-in-one Supply Chain Portal
Ecohz developed a dedicated platform that allows companies to seamlessly work renewables into their supply chain. Our Supply Chain Portal helps brand owners focus on their Scope 3 emissions and enables suppliers to align with decarbonisation targets.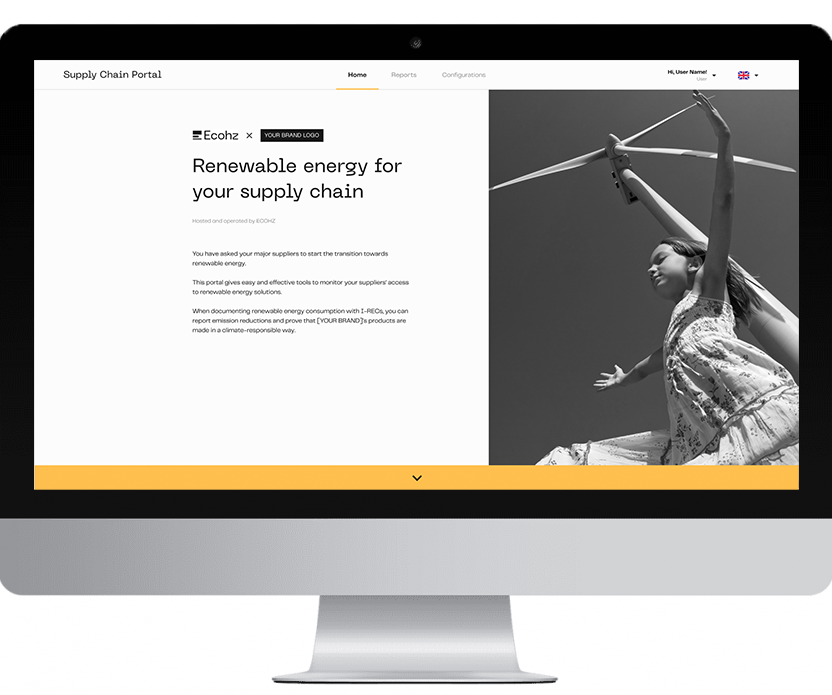 With Ecohz' Supply Chain Portal, you can:



Give your suppliers easy access to documented renewable energy through a customisable and user-friendly digital tool.

Introduce your suppliers to a simple procurement cycle with three easy and transparent steps, from inquiry to delivery.

Set renewable energy targets and visualise progress.

Produce detailed reports according to your needs.

Effortlessly onboard new suppliers and manage set-ups and requirements with a few clicks.
Ecohz' ongoing support
Users of the portal have a full team behind them. We run a customised enrolment programme for new clients, including platform setup and start-up webinars. Customers also receive periodic updates and new functionalities, as well as technical assistance in English and Mandarin.
Leading change: why tackle your supply chain emissions?
On average, Scope 3 emissions are over 11 times higher than operational emissions. In other words, tackling greenhouse gases in their supply chain offers companies an enormous window for crucial climate action.
Businesses with extensive value chains can multiply their efforts by setting targets for their suppliers, leading others on the path towards sustainability.
Why Ecohz
Ecohz has pioneered the world of renewable electricity for two decades. We are now pouring our expertise into digital platforms that simplify our client's journey to net zero.
We believe having access to the right tools facilitates urgent climate action. Our platforms build a closer relationship with our clients, helping businesses take swift sustainability measures by customising our offering to their needs.