But we must start with the basics. If you are new to supply chain emissions and are trying to understand what is what, keep reading. We have broken down the seemingly daunting task of evaluating your value chain into sections to help you unlock the climate impact of your business and lead others on a decarbonisation journey.
Table of contents:
What are Scope 3 emissions? A deep look at your value chain

Understanding upstream, downstream, and boundaries

How to set Scope 3 targets

The role of renewable electricity in cutting Scope 3 emissions

Cascading effect: an opportunity for your business
What are Scope 3 emissions? A deep look at your value chain
To understand and classify businesses' wide range of climate impacts, the Greenhouse Gas Protocol (GHG-P) divides emissions into three categories commonly called Scopes. Scope 1 comprises direct emissions from owned and controlled sources, such as your transport fleet and the GHG produced in your factories. Scope 2 encompasses indirect emissions from purchased heat and electricity.
Meanwhile, Scope 3 emissions are all those that occur in a company's value chain, such as goods and services purchased, extraction and transportation of raw materials, business travel, and the use of sold products. They also include emissions from leased assets, investments, and franchises.
The GHG-P further classifies Scope 3 emissions into upstream and downstream. The former are indirect greenhouse gas emissions related to purchased or acquired goods and services –– anything coming into your organisation. The latter are emissions related to sold goods and services –– anything coming out.
Scope 3 represents the lion's share of any company's GHG contributions. They are also the most complex to address. To tackle them, one must begin by breaking them down.
Understanding upstream, downstream, and boundaries
The GHG-P divides Scope 3 emissions into upstream and downstream. Simply put, it considers all goods and services bought by a firm to be upstream, while anything sold goes downstream.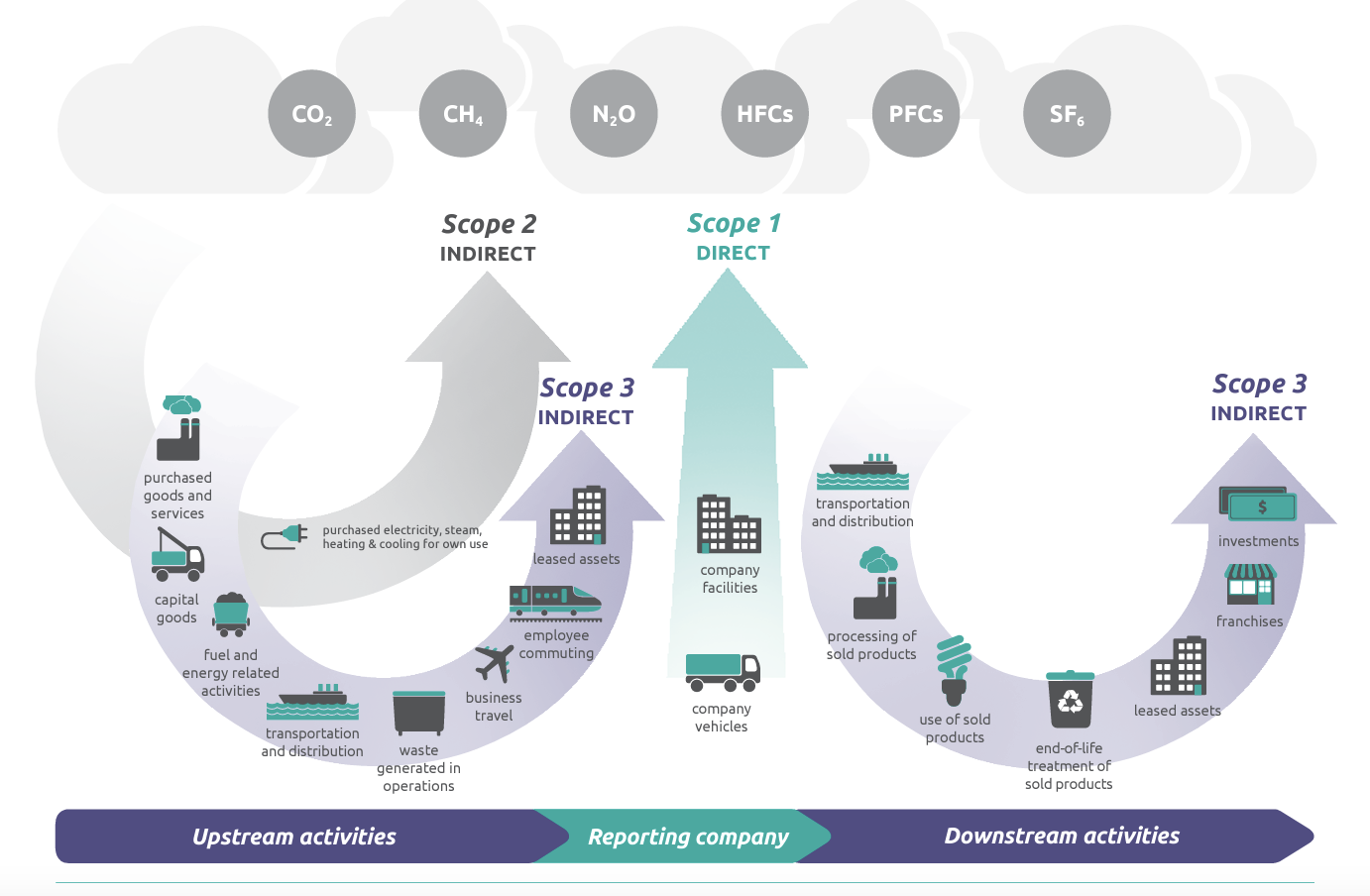 Source: Greenhouse Gas Protocol, Corporate Value Chain Standard
The GHG-P further splits value chains into 15 categories to help companies organise and report their emissions. Not all of them are relevant for every business, but they provide companies with a good overview of the areas they should examine.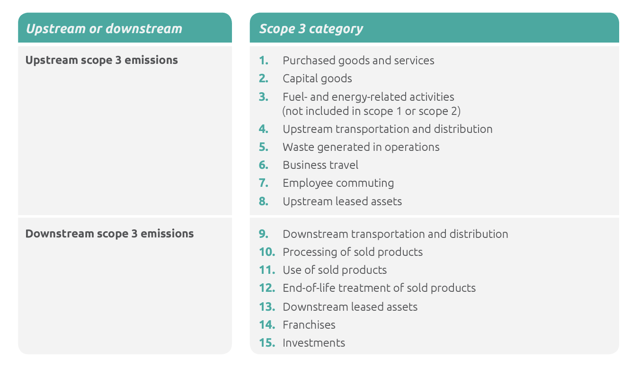 Source: Greenhouse Gas Protocol, Corporate Value Chain Standard
The GHG-P also established 'minimum boundaries' that indicate what activities each category comprises. The goal is to assess and report 'major activities' while limiting an accounting effort that could otherwise prolong indefinitely. For example, in the category of Business Travel, corporates should estimate the emissions released during a trip but not those of building the train used to make said trip.
Not all 15 categories have similar boundaries. Some upstream emissions, such as Purchased Goods and Services, require a 'cradle-to-gate' approach. In this case, the emissions calculation covers the entire life cycle of a product, from the extraction of raw materials to final use. Other categories demand only that Scope 1 and 2 of a given supplier are contemplated. Thus, a company does not have to account for the Scope 3 of its partners.
The GHG-P also sets a time boundary: reporting companies should measure emissions occurring in a given year. However, considerations apply. Some emissions may have occurred in the past, such as those connected to the production of goods used by a company. Think of the metal used to make a car. A car made in 2022 should consider the emissions of its raw materials, even if they were extracted in, say, 2021.
Others yet may take place in the future, like those related to investments which are yet to produce emissions. Thus, companies should consider emissions embedded in actions taken in the reporting year.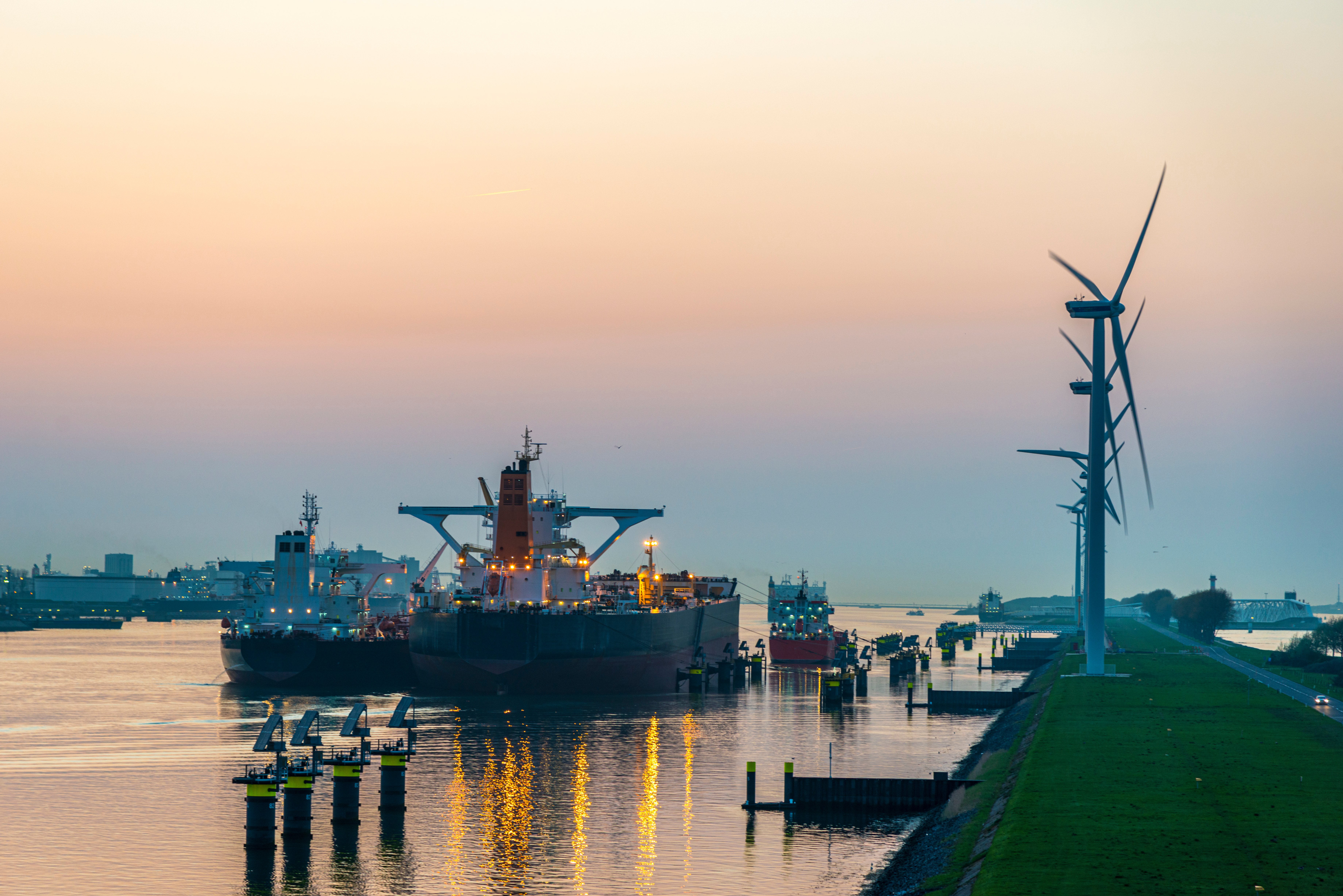 How to set Scope 3 targets
Value chains can be vast and setting targets may seem intimidating. Therefore, it is essential to break this gargantuan task into simpler parts. 
You can start by grouping your suppliers into smaller, more manageable units. Consider CDP's classification system. It splits your value chain into upstream and downstream. Then, it divides it into 15 categories. A comprehensive Scope 3 goal will require eventually addressing all relevant segments. However, you can start by screening for emissions hotspots and engaging supply chain partners in those areas. It is also possible to set separate upstream and downstream targets to begin acting where most emissions originate. 
Tools for calculating Scope 3 emissions
Online calculating tools such as CDP's Scope 3 Evaluator can facilitate preliminary screenings. Based on a series of questions, it offers a rough but complete Scope 3 inventory that companies can use to identify urgent action areas and guide decarbonisation efforts.
Corporations that deal in multiple business areas can also take a sectoral approach. The Science Based Targets initiative (SBTi) has developed sector-specific guidance to help companies align with solid criteria. Thus, businesses with value chains spanning a range of sectors can set separate targets for their subsidiaries and raw material procurement, for example, chemicals, aluminium and steel. 
Finally, meeting targets depends on accurate reporting. As we have said earlier, SBTi requires businesses to report annually. When compared to the baseline year, periodic emissions reports are critical to evaluate and adjust actions in case of underperformance. And while companies do not need to provide a comprehensive roadmap of their intended actions from the get-go, interim targets are essential for monitoring progress and validating claims.
The role of renewable electricity in cutting Scope 3 emissions
All suppliers consume energy to produce the goods and services they deliver to your business, releasing emissions. Switching from fossil to renewable electricity sources can cut your partners' Scope 2 and your Scope 3 emissions.
Energy Attribute Certificates (EACs) for your supply chain
One critical question is allocation – what volume of renewable electricity belongs to whom and to what Scope? Energy Attribute Certificates (EACs) are the key here. EACs are the primary tool to claim ownership of renewable electricity. Once it is in the grid, it becomes impossible to distinguish between green and grey electricity. EACs are tracking instruments that give the purchasing party the right to claim the environmental benefits of renewable electricity. They state the place, date, technology, and other information to provide exclusive proprietorship of a given volume.
Suppliers can allocate EACs by stating in the cancellation purpose of the certificates that the volume in question accounts for their participation in another company's supply chain. Thus, that electricity counts for their own Scope 2 and  for the Scope 3 of the partner mentioned in the document.
Conversely, it is possible for a company –– let's call it the brand owner –– to purchase documented renewable electricity on behalf of their suppliers. This should also be explicitly stated in EACs, making the volume bought applicable to Scope 3 emissions and excluding it from the brand owner's Scope 2. Transparently registering and disclosing such allocations is fundamental to knowing which Scope any given EAC falls on and avoiding double counting.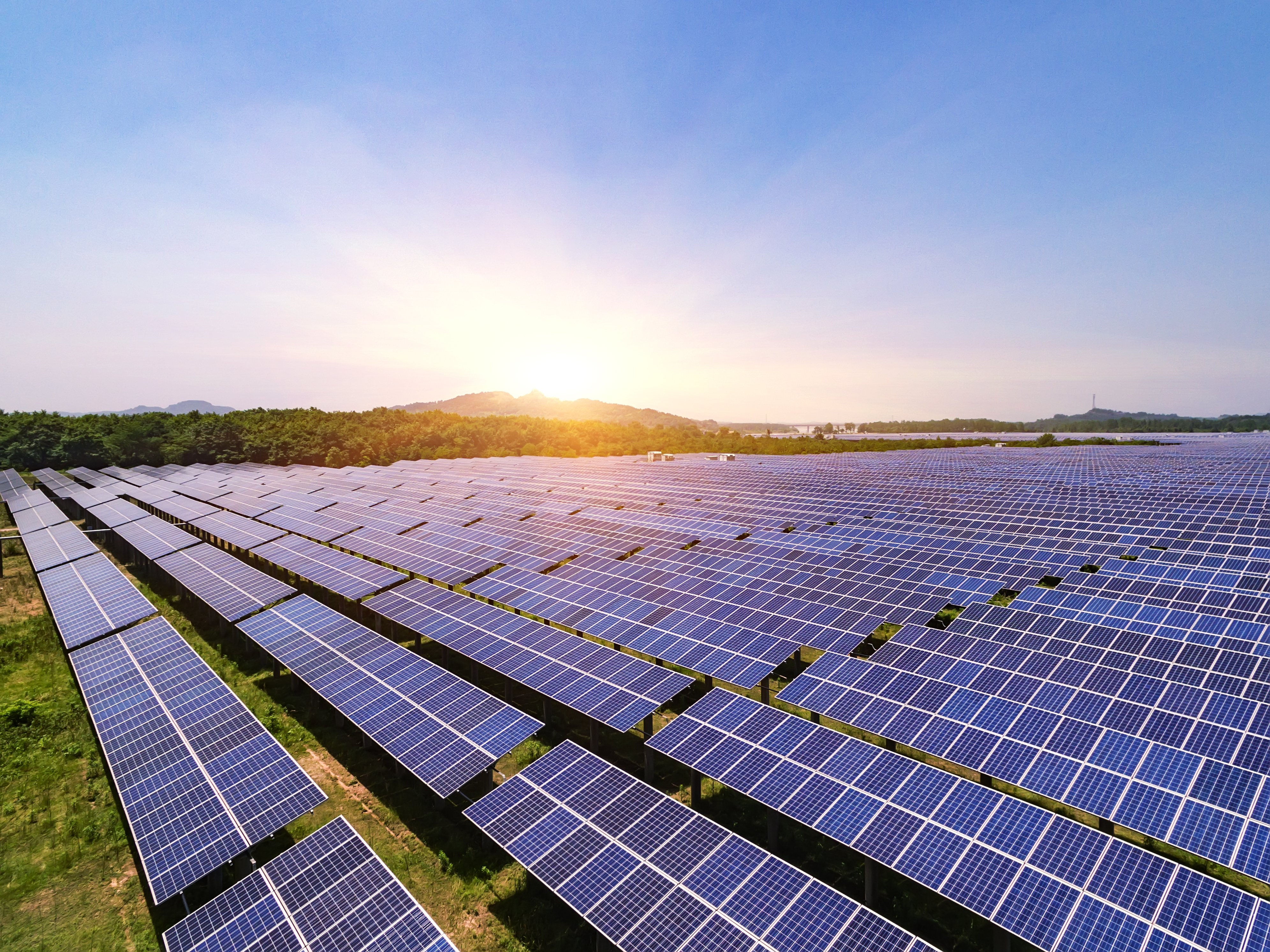 Helping suppliers align with your targets
Engaging and communicating with suppliers is also crucial. Companies cannot purchase EACs on behalf of their suppliers without their approval, nor can they claim ownership of renewable electricity purchased by third parties as part of their own Scope 3. 
Ecohz developed a Supply Chain Portal that streamlines this process. The platform allows brand owners to set renewable energy targets and facilitates suppliers' access to EACs, which are seamlessly allocated to the appropriate value chain. It further smoothens communication with multiple stakeholders and automates the management of supply chain emissions, making it easy for brand owners to amplify their impact.
Cascading effect: an opportunity for your business
Corporations with large value chains can multiply their climate actions. By setting emissions reduction targets, they can create a cascading effect that permeates every nook of their supply chain, leading their partners to comply and decarbonise their own operations. Thus, companies can drive positive transformation at scale. 
Meanwhile, suppliers also have a chance to reap economic benefits from slashing emissions. According to CDP, suppliers engaging in decarbonisation actions for value chain partners reported joint savings of $29 billion in 2021. Around 1.8 billion tons of CO2 equivalents were abated over the same period. 
Tackling Scope 3 emissions is key to catalysing climate action. Supply chains extend the world over, interconnecting businesses in every sector. And although these webs are complex, they also hold enormous climate potential that can be unlocked using the right tools and following expert advice.