GO²
GO² by ECOHZ helps companies act responsibly and reduce their carbon footprint, while contributing to the building of new renewable power plants in a simple and effective way. GO² is an innovative solution for financing and developing new renewable energy production.
GO2 allows businesses to contribute top-financing to named renewable projects. The GO2solution builds on the system of Guarantees of Origin, and bundles renewable energy consumption with a contribution to new renewable energy production. It supports wind power, hydropower, solar power, geothermal energy or bioenergy projects in Europe . This enables customers to document that they consume clean energy, while adding more capacity to renewable energy production. ECOHZ believes a significant number of projects can be "activated" with top financing from GO2.

With GO², companies have the option of buying a high impact renewable energy product that is simple to implement without binding, long-term financial commitments. GO² provides you with two low-risk, low-cost options; 1) the co-operative product GO² United where your contribution is pooled with that of others and 2) the exclusive GO² Signature product where your engagement is enough to launch a named new power plant. Engaging in GO² for as little as one year can be enough to assure that a new power plant is built.
With GO2, ECOHZ has created a unique system that brings additionality. ECOHZ identifies possible new renewable energy projects, and works with customers and providers to realise the projects. The ECOHZ Renewable Energy Foundation ensures the completions of the financing for the selected projects, and through our circular financing model the funds are re-used– creating an exponential additionality impact. The ECOHZ Renewable Energy Foundation is an independent foundation, working to accelerate the construction of new renewable power plants. As a non-profit, it optimizes the money flow to new renewable energy projects.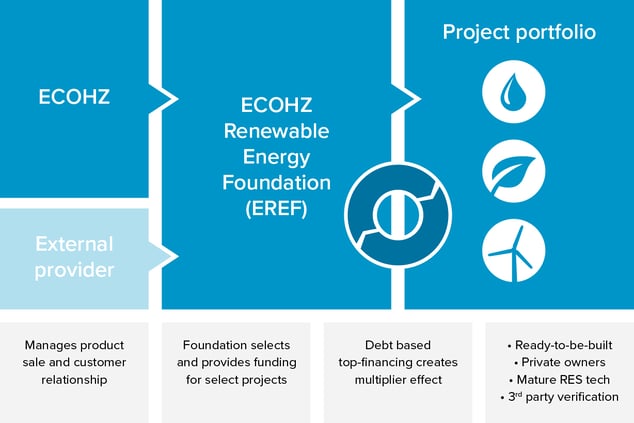 The ECOHZ Renewable Energy Foundation
GO2 is built on the following principles
GO tracking and reporting
GO2 is built on the European system of Guarantees of Origin (GO), ensuring proper tracking and reporting of the origin. Guarantees of Origin are issued in line with the RES Directive from 2001 (confirmed again in the 2009 directive) by European Union.
Top-financing
Renewable energy with Guarantees of Origin (GO) is expanded to include a direct contribution to new energy production. The GO2 top-financing covers up to 15% of the total project costs and triggers a domino effect. The ECOHZ Renewable Energy Foundation focuses on "ready-to-be-built" projects to ensure a fast deployment. For the product version GO² United € 0.60/MWh are allocated to the ECOHZ Renewable Energy Foundation, for GO² Signature € 3.20/MWh.
Delivering real increase
Any of the "mature" renewable technologies (solar, wind, hydro, geothermal & biomass) are eligible for GO2 funding. Only European projects in need of top financing are eligible. GO2 funding is not used to finance pilot projects or technologies under development.
Allocation guarantee
The GO2 solution will be based on a firm investment allocation guarantee. A predefined share of the total will be directly allocated to a named project. When purchasing the GO2 a confirmation will be delivered to the customer, describing which share of the total purchase price is allocated to the projects.
Representation and reporting
The buyer of GO2 must correctly represent and report the percentage/volume of GO2 purchases relative to their total power consumption.
Multiplier effect
The ECOHZ Renewable Energy Foundation will provide top financing to the projects using an attractive lending scheme. The lending scheme, although preferential compared to traditional sources, will ensure a payback of funds to the foundation. This creates a multiplier effect as the funds can be reinvested in yet another project. The foundation seeks to reinvest the funds through a circular financing model in this manner every three years.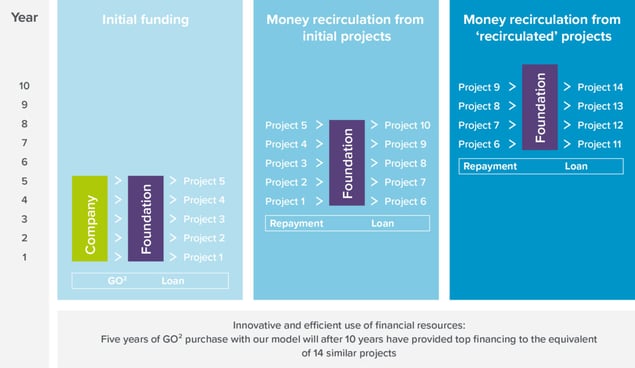 Multiplier effect through the circular financing model ©ECOHZ
GO² benefits
Documents emission reductions
Contributes to the development new renewable energy, amplified by a multiplier effect
Shows environmental performance of your company
Customises a flexible renewable energy solution to suit your needs
ECOHZ handles all administrative tasks
The new power plant will, over its lifetime, produce more renewable electricity than your annual consumption, making you energy positive
GO² impact
GO2 has a positive effect beyond the described value creation for businesses themselves.
An improved and relevant market-based support mechanism – not replacing, but complementing existing national support schemes
Further vitalisation of the market place for new renewable energy
A viable framework for post-2020 renewable policy
Increased value of existing renewable energy documented with GO
Additional incentive for project developers
Social and health benefits
The GO² concept is endorsed by CDP.
---
"We welcome ECOHZ' leadership in providing the products the market wants and at the same time delivering important sustainability benefits. CDP has long supported renewable energy as a path to a low carbon economy. We are delighted to see a link created between the consumption of renewable electricity and the introduction of additional renewable capacity."

Nigel Topping
CEO
We Mean Business
---
GO² is recognised by the Greenhouse Gas Protocol
January 2015 the World Resources Institute (WRI) presented its updated Greenhouse Gas Protocol Scope 2 Guidance. This is a new framework that brings increased clarity and assurance for corporations considering how to mitigate, document and report their electricity consumption. In the Scope 2 Guidance, GO² is recognised as an efficient and valuable instrument for corporations to create more renewable power production (page 92).
Even a small number of companies signing agreements to purchase GO² can yield large results in terms of long-term supply of new renewable electricity generation.
Finance new renewables together

Create new renewable energy production together with others
0.60 € per MWh sold is directly allocated via the ECOHZ Renewable Energy Foundation to specific projects
Show your commitment and consume and build renewable energy at the same time
Be united in changing energy behaviour and make a lasting difference
Enables you to market specific power plants you have financed

Finance your unique renewable energy project

Support the building of new renewable capacity with your exclusive project
€ 3.20/MWh is directly allocated via the ECOHZ Renewable Energy Foundation to a named project
Create value for the society and show environmental commitment
Low complexity, high engagement, high impact
The product is simple scalable and can be tailored to specific customer need
Have a direct link between your business and your exclusive renewable energy projects
The projects built on the unique GO2 solution, are available both for co-op and exclusive implementation. They offer exceptional possibilities to make a strong and a unique statement about your commitment to sustainability.

A small hydro power plant on a 100-year old site in Norway.

Wind farm in Sweden with excellent location