CDP Reporting
Increased use of renewable energy really is critical to the transition to a low-carbon economy – but what options are available to your business when it comes to energy procurement and reporting it to CDP? We answered these questions in our in-depth webinar about renewable energy procurement in 2017. You hear from ECOHZ about what options are available to companies around the globe, and from CDP about how to report the electricity you procure from renewable sources. Plus, you'll also hear all the questions from the participants at the end.

CDP Scoring
Reporting to CDP in regards to a company's energy consumption and low carbon energy purchases, is in line with the updated Greenhouse Gas Protocol Scope 2 Guidance.
CDP's scoring methodology provides a score which assesses progress towards environmental stewardship as reported by a company's CDP response. The score assesses the level of detail and comprehensiveness of the content, as well as the company's awareness of climate change issues, management methods and progress towards action taken on climate change as reported in the response.
Scope 2 emissions
Scope 2 emissions are defined as the indirect emissions from the generation of purchased or acquired electricity, steam, heat or cooling consumed by the reporting company.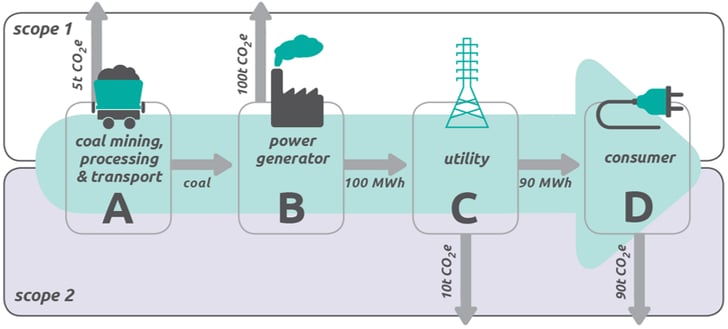 A major change in the new GHG Protocol Scope 2 Guidance is that scope 2 emission is no longer one number – it is two: Location-based method & market-based method. Image source: CDP.
Location-based method
Reflects the average emissions intensity of grids on which energy consumption occurs using mostly grid-average emission factor data.
Market-based method
Reflects emissions from electricity that companies have purposefully chosen.
It derives emission factors from contractual instruments. CDP recommends the following tracking systems:
GOs, RECs, I-RECs = 0 emission
In 2016 CDP reporting evolves with the updated GHG Protocol Scope 2 Guidance
The GHG Protocol Scope 2 Guidance has specific reporting requirements which are reflected in CDP's climate change questionnaire. Due to the changes in the 2016 reporting cycle for Scope 2 accounting, a number of sections of the questionnaire have been modified.
The following figure illustrates an overview of all key changes being made:

CDP's scoring methodology for the 2016 reporting cycle
Responding companies will be assessed across four consecutive levels which represent the steps a company moves through as it progresses towards environmental stewardship. The levels are:
Disclosure: Every question in the questionnaire is scored for disclosure. The number of points allocated to each question depends on both the amount of data requested and its relative importance to data users.
Awareness: The awareness score measures the comprehensiveness of a company's evaluation of how environmental issues intersect with its business.
Management: Management points are awarded for answers that provide evidence of actions associated with good environmental management, as determined by CDP and its partner organisations. Answer representing more advanced environmental stewardship have more points associated with them.
Leadership: To earn leadership status, the company response must score leadership points as detailed in the methodology. These actions represent best practice as formulated by organisations working with CDP to advance environmental stewardship.
A minimum score of 75%, and/or the presence of a minimum number of indicators on one level will be required in order to be assessed on the next level. If the minimum score threshold is not achieved, the company will not be scored on the next level as illustrated in the figure below.

How many points are awarded to companies for reporting low carbon energy purchases?
The scoring methodology uses columns headed "numerator" and "denominator". The denominator column indicates the maximum number of points attainable for each question. If the number of points is indicated in the "numerator" column, the maximum number of points is awarded automatically when the question is answered and does not require any judgement to be made by the scorer.
The table below illustrates the maximum points that can be achieved for reporting low carbon energy purchases:

Any questions? For more information contact:
Director Global Corporate Sales