Greenhouse Gas Protocol Scope 2 Guidance
The Greenhouse Gas Protocol (GHG-P) is the most widely used international accounting framework to understand, quantify, and manage greenhouse gas emissions. The Greenhouse Gas (GHG) Protocol is a multi-stakeholder partnership of businesses, non-governmental organizations (NGOs), governments, and others convened by the World Resources Institute (WRI) and the World Business Council for Sustainable Development (WBCSD).

In January 2015, the Secretariat of the Greenhouse Gas Protocol published a Guidance on how to account for the carbon emissions of purchased electricity and heat. In 'carbon footprint terminology' these emissions are known as scope 2 emissions. The guidance –
Greenhouse Gas Protocol Accounting Guidance Scope 2 – is used to easily and transparently report emissions and the origin of the electricity consumed.
Scopes and emissions across the value chain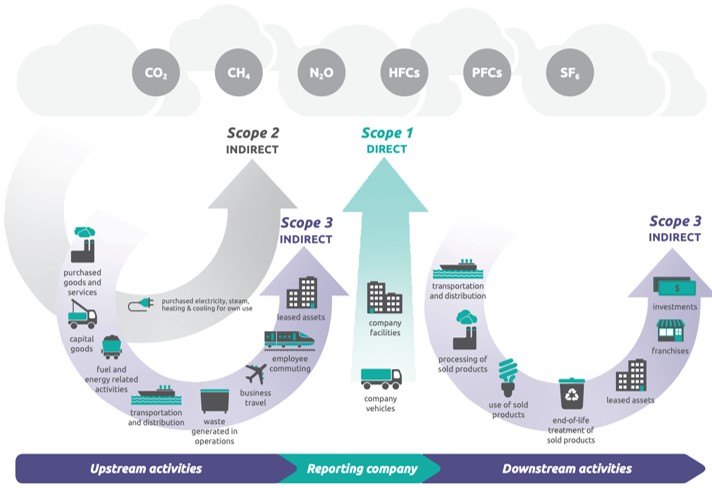 GHG Protocol Scope 2 Guidance features GOs, RECs and I-RECs
In Scope 2's Accounting Guidance Guarantees of Origin (GOs), RECs and I-RECs are directly featured as mainstream instruments for documenting and tracking electricity consumed from renewable sources. The clarification companies gain from the GHG Protocol Scope 2 Guidance has the potential to transform energy buying practices in the corporate world.
The GHG-P Scope 2 categorises indirect emissions from consumption of purchased electricity, heat or steam. "By the Scope 2 Accounting Guidance including GOs, RECs and I-RECs as best practice tracking system of power attributes, more companies are encouraged to document their use of electricity from renewable sources," said Tom Lindberg, Managing Director, ECOHZ.
"These renewable energy certificates reduce companies' CO2 footprint, increase awareness of the origin of the electricity consumed and send a signal to the market that companies prefer electricity from renewable energy sources. Over time this documented demand for low carbon energy solutions will change energy behaviour."
This encourages businesses to measure, manage and report their greenhouse gas emissions from their electricity consumption and increasingly switch to power from renewable sources.
GO2 and EKOenergy: making an impact for the future power mix
The GHG-P Scope 2 recommends GO2 and EKOenergy as relevant and recommendable products to engage further in the promotion of renewable power.
Scope 2 emissions calculation methods
RE100,

SBTi

and

CDP

refer to GHG Protocol corporate guidance for scope 2 and 3 accounting.
There are two applicable methods: market-based and location-based for scope 2 reporting:
– If a company is located in an area where supplier-specific data (certificates) is accessible, both methods shall be used
– If not, only market-based methods shall be used.