Sam Kimmins, Head of RE100 at The Climate Group, was invited to Oslo late September to speak at the RECHARGE Thought Leaders Summit. In connection with his visit, ECOHZ facilitated a round table at the Oslo Grand Hotel inviting Norwegian companies to meet Sam Kimmins and learn more about the RE100 initiative – its principles, impact and ambitions moving forward.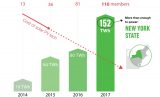 113 of the world's most influential companies have already committed to 100% renewable electricity through joining the RE100 initiative. The number of RE100 members is growing fast and together these companies are creating an annual demand of more than 152 TWh renewable electricity, which is more than enough to power the entire New York State. RE100 is a collaborate initiative uniting global brands committed to using 100 percent renewable electricity by a specified year, many of them by 2020. The member companies disclose their environmental data annually through CDP and RE100, on the way to reaching their targets. One of the Norwegian member companies, DNB, has already achieved 100% renewable electricity and is among a select group to already reach the goal.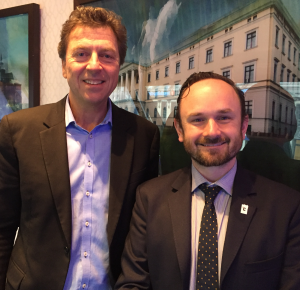 During the meeting, Sam focused on what it takes to become a RE100 member, as well as how current Norwegian members address the challenge of increasing their renewable energy use. The members of RE100 have all set goals, but their strategies vary in how they plan to reach their targets. Some are in position to take a long-term industrial approach and provide capital and resources to build new off-site generation. Others are looking for long-term price certainty and opt for using PPAs from renewable power plants. Companies wanting to make renewable consumption claims, must do so by documenting this using market based instruments such as Guarantees of Origin (GOs) in Europe, RECs in North America and International RECs (I-RECs) in a growing number of countries in Asia, Latin America and Africa.
RE100 is working to remove barriers to ensure that more companies have access to renewable energy at a reasonable price. The companies themselves are also able to influence policy.
RE100 members commit to renewable electricity in own operations but we will see a chain reaction when the big players start to push their own ambitions further down the value chain raising the bar for their suppliers by encouraging them to set the same ambitious renewable targets.
The purpose of the round table was to inspire Norwegian companies to raise their renewable energy ambitions and encourage them to join the RE100 initiative.