Higher standards for "sustainable" renewable energy
The amended criteria recognise five sources of renewable electricity: wind, solar, geothermal, hydro, and biomass. There are, however, different considerations for some of them.
Wind, solar, and geothermal energy are always considered renewable. Meanwhile, RE100 regards electricity generated from biomass and hydropower renewable only if it is "also sustainable." It further recommends – but does not require – that "sustainability is proven through third-party certification." 
For example, the rules explain specific forms of hydropower generation – like run-of-river power plants – should not be automatically assumed to be sustainable, and advise these should be evaluated to ensure they have a reduced impact on the environment. RE100, however, does not suggest specific mechanisms or third-party verifiers to asses the sustainability of biomass and hydropower. It is up to reporting companies to decide how they seek verification.
New European market boundaries
RE100 has also modified its market boundaries for Europe. According to the new rulebook, a country is in the "single market for renewable electricity in Europe" so long as is simultaneously part of the European Union's single market, the Association of Issuing Bodies (AIB), and "has a grid connection to a country meeting the first two rules."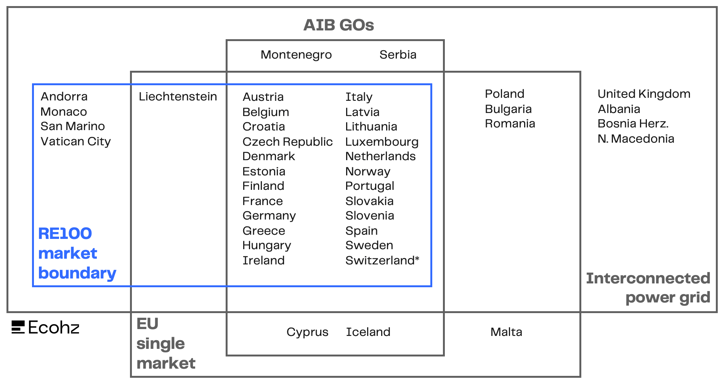 The new RE100 market boundary for Europe. Graph: Ecohz. Source: RE100
The change leaves Poland and the UK, which have national Energy Attribute Certificate (EAC) systems, out of the single market boundary. Albania, Bosnia, and Macedonia are also excluded despite having interconnected grids, as are Bulgaria and Romania, not members of AIB. Small nation-states, such as Monaco and the Vatican, are exempt from the rule and are included in the market boundary.
RE100's market boundary is stricter than the one defined by EU legislation. For the business coalition, a claim to the usage of renewable electricity stands only if the generation of said electricity occurs in the same market that the claim is made. Companies operating in excluded countries will see their options for procuring renewables and follow the voluntary criteria reduced.
A 15-year date limit for eligible power plants
The RE100 technical criteria further demand companies purchase renewable electricity from power plants built or recommissioned less than 15 years ago. The commissioning or re-powering date limit, RE100 argues, will "increase members' demand for new renewable electricity capacity" and raise support for new renewable projects, which are "central to the energy transition."

The rules consider an exemption for up to 15% of a company's total electricity consumption. This means that if a company only purchases 15% of its overall energy usage from renewable sources, none of this volume is subject to the date limit. If a company uses 50% renewable electricity, 35% of the total consumption is covered by the rule.

RE100, nonetheless, recommends companies phase out this exempt 15% voluntarily. It also puts forward technology-dependent rules for the recommissioning of power plants to guide more impactful procurement.
Grandfathering under the 2021 technical criteria
The new criteria include a grandfathering clause, by which contracts for energy procurement which follow the 2021 criteria on the age of power plants and the previous market boundary are still valid beyond 2024 as long as they have commencement dates before 1 January 2024. In other words, current contracts are still considered compliant until they expire.
Energy procurement contracts include physical and financial Power Purchase Agreements and project-specific contracts for bundled and unbundled EACs. RE100, however, has different rules on what is considered the "commencement date" for bundled and unbundled procurement.
The RE100 technical criteria guide corporate procurement of documented renewable electricity. To provide further guidance on specific topics and enhance corporate impact, RE100 has published a document with frequently asked questions. You can find it through this link.
If you have any further questions, do not hesitate to get in touch. Our advisors are happy to solve any queries and guide your company as it tries to reduce emissions.
*Swiss GOs are not accepted for fuel mix disclosure in the EU single market.