On September 12, this year the town was decorated in pink, to celebrate both the up-coming golf event and even more importantly, the inauguration of the new evian® factory.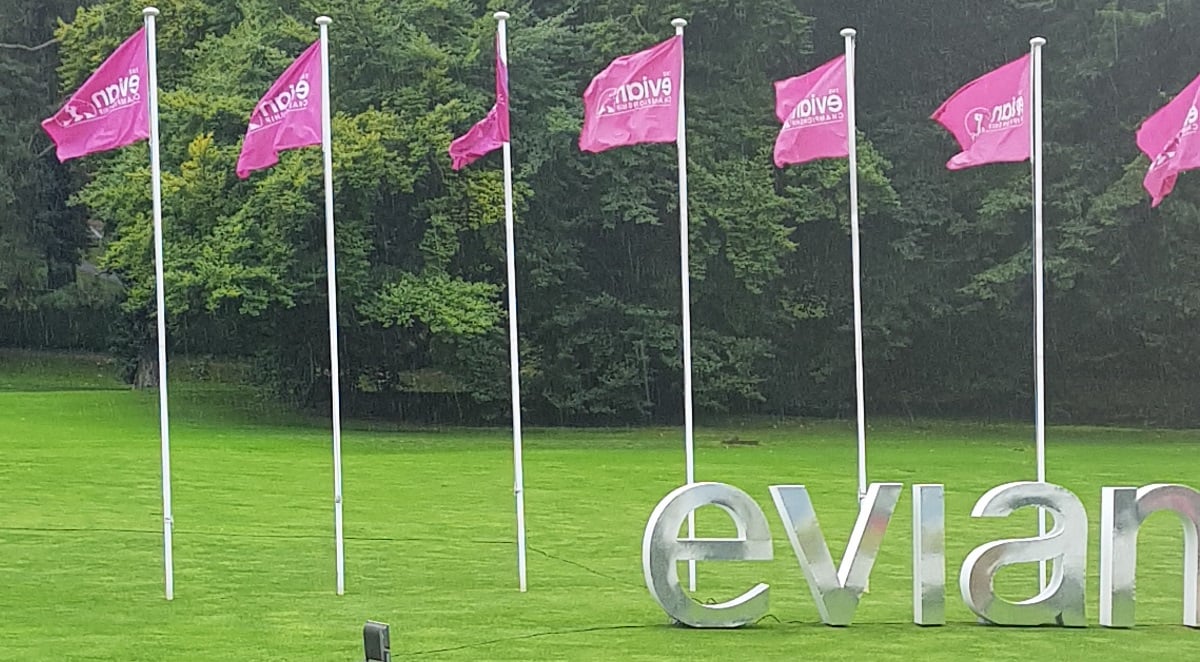 Over 100 years ago the Cachat natural mineral water source in Evian started providing healthy mineral water for local thermal baths and for rehydration. So pure and appreciated was the water that it originally was sold through the local pharmacy. As we all know, evian® is no longer reserved only for local consumption.
Over the past six years the evian® production site has gone through a most impressive "top-to-bottom" transformation renovating the world's largest and most modern natural mineral water factory with the capacity to produce up to 7,000,000 bottles per day. The machines produce the PET plastic bottles in all shapes and sizes, fill them, brand and package them in one integrated process. All at a mind-boggling speed of hundreds of bottles per second, without a drop of water going to waste.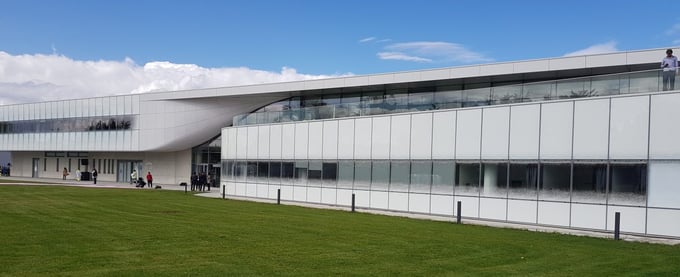 The main entrance to the museum / visitors centre, offices and production facilities
The transformation, budgeted at 280 million euro, carried out while maintaining full production throughout the 6-year period, has been done the Danone way. All functions and all layers of the 1.200-person staff was involved and the result is clearly the pride of the entire organisation.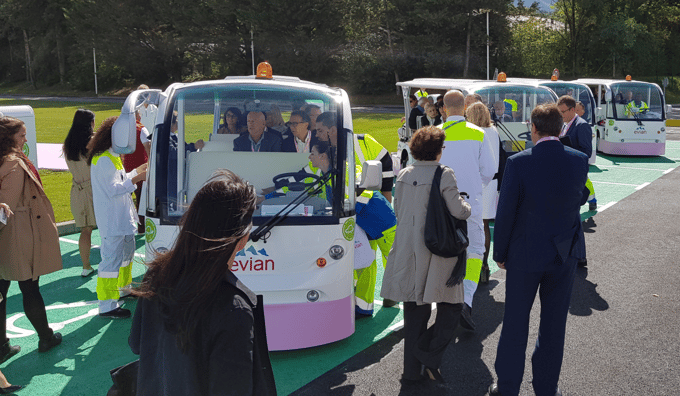 Getting ready to tour the 130.000 m2 factory in electric vehicles power by renewable energy supplied by Ecohz
During the Paris COP 21 evian® made a bold pledge to become carbon neutral by 2020. This inauguration was an opportunity to announce a number of initiatives already undertaken, and to take the first important steps towards the 2020 goal: carbon neutrality of both the US&Canada businesses and the bottling site.
Bringing together the communities in several neighbouring municipalities, a methanization plant has been build that produces and injects into the local gas network a quantity of green gas equal to the evian® plant's consumption.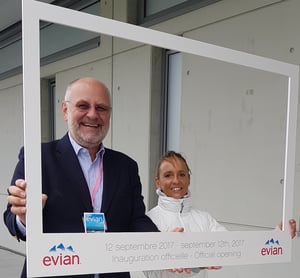 Ecohz is particularly happy and proud to contribute to the carbon neutrality of the evian® plant through the supply of documented renewable energy sourced from the Valorcine power plant. Valorcine, like evian®, located by the foot of the mountains, produces ca 300 GWh annually from the Alps' glacier hydro resources. In many ways closing the loop; alpine hydro energy powering the bottling process that brings this pristine glacier water to the world.