From New York to Reykjavik, Copenhagen, Rome and Seoul, ECOHZ has spoken and participated in conversations about our industry. What problems and opportunities are we facing? What are the most recent trends? Having landed back in Oslo, here are our reflections:
Even more companies are committing to 100% renewable energy – and the commitment spreads along their supply chain
Corporates cemented their commitment to renewable energy during Climate Week NYC: Apple, Bank of America and General Motors, among 12 world-leading companies, joined RE100. Lisa Jackson, Vice President of Environment, Policy and Social Initiatives at Apple, shared how Apple is committed to work with its manufacturing partners to ensure their supply chain uses 100% renewable energy. "We have to be the ripple in the pond. We can't just be 100% renewable energy – we have to bring others with us." Preben Munch participated at Climate Week NYC in September.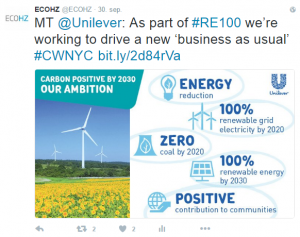 Consumers influence energy companies

The energy market has moved from regulation to becoming more competitive, and customers have more influence than earlier. Technology has increased customers' expectations including access to real-time information. Customers are also expecting greener solutions. This opens new opportunities for utilities and energy companies to build strong brands. A strong brand has a clear purpose, a logical story and "walks the talk". Energy companies will be competing amongst themselves to offer competitive prices and greener solutions that are simple for the customer to use. In September, Reykjavik hosted CHARGE 2016, the world's first energy branding conference, where Janne Svendsen Moe and Nikolai Iversen from ECOHZ participated.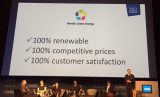 Moving from sustainability to purpose

Did you know that 65% of consumers globally try to support brands that have a clear purpose? In Europe the figure is even higher – 74%. Sustainable brands are "benchmarked against" purpose, passion, people, planet and profit. Producers of Fast Moving Consumer Goods (FMCGs) are responding to this demand. Line Riise Jensen and Janne Svendsen Moe in ECOHZ, along with 440 attendees and speakers, participated at Sustainable Brands 2016 in Copenhagen in September to discuss how to activate brands' purpose. Read the official event summary here.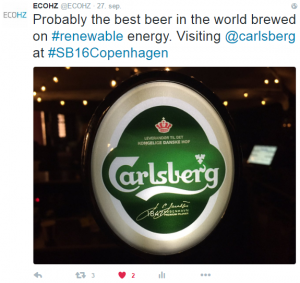 WINConference running on renewable energy
Preben Munch spoke on Climate Change and Renewable Energy at the 19th annual Women International Networking Conference – WIN in Rome, Italy where 700+ participants shared insights under the theme "Leading the Way with Beauty, Connection & Confidence". For the first time, the event used documented renewable energy and was carbon neutral throughout the value chain for all the conference participants. We hope WIN's example will set precedence and motivate other conference organisers to follow the lead.

From access to energy to renewable energy?

Asian Power Week in Seoul gathered fossil fuel and renewable energy experts to discuss the state of the energy industry. Tom Lindberg spoke about International REC Standards (I-RECs) and how companies in Asia can document and report that the energy they use comes from renewable energy sources. Although varying from country to country, the trends in Asia show that the debate still focuses on access to (cheap) energy, rather than how energy is produced. The oldest renewable energy source, hydropower is a well-recognized renewable energy source, and there is now a growing interest also in wind- and solar power. Despite the abundance of sunshine, there is still limited amount of solar power installed. There is certainly an opportunity to help shift the market focus and make it clear that there are cost-effective renewable options when considering how to give people access to electricity. A lot of this drive to change will come from local populations that are concerned with pollution.