How transportation can run on renewable electricity
Many people who travel are concerned with their carbon footprint. Transforming the transport industry to run on renewable energy is vital for a more sustainable society. But where does the renewable energy come from? How can transportation that runs on electricity, like trains or electric cars, run on renewable energy when they draw power from the European energy grid? A significant share of the electricity on the European grid comes from fossil fuels so travelling by electric trains or electric cars is not 100% clean unless the consumption is documented with Guarantees of Origin.


Driven by renewables
Ecohz has been a pioneer in its support of local and European electric vehicle associations, and has worked actively to promote renewable electricity as the fuel of choice. Over the past five years Ecohz has actively worked with electric vehicle communities around Europe; including suppliers of charging equipment, infrastructure developers and car manufacturers, as well as key power producers. In cooperation with the Norwegian Electric Vehicle Association Ecohz has for years ensured that all electric vehicles in Norway consume renewable electricity. The 100% renewable guarantee follows the car, independent of who is charging it. This is achieved by providing Guarantees of Origin for the annual electricity usage of these electric vehicles.
Ecohz also has an agreement with a leading Swiss manufacturer of charging equipment for electric vehicles: Green Motion. All charging stations from Green Motion are sold with Guarantees of Origin from Ecohz corresponding with the charger's consumption of electricity. This guarantees that all Green Motion customers receive renewable power through their charging equipment.
"The source of the power being a sensitive topic in the field of electric mobility, I wanted our company to take responsibility as a provider of charging infrastructure using the Norwegian company Ecohz, European leader in the field of Guarantees of Origin, to assure and document the origin of the power delivered". François Randin, CEO of Green Motion.
Norway's success story
Norway has the highest number of electric cars per capita in the world. Norway's electric vehicle success story was amongst others driven by an "incentive" package for electric vehicles that includes no VAT on electric vehicles, reduced road taxes and free parking in public parking areas.
Norway's "incentive" package
No VAT on electric vehicles
Reduced road taxes
Access to bus and taxi lanes on highways
Free parking in public parking areas
Free charging in designated electric vehicle parking areas
Free access to publicly owned ferries
Reduced fringe benefit tax (when company car)
Zero Emission Resource Organization – ZERO and Norwegian Electric Vehicle Association have made a five-part video series about electric vehicles. ECOHZ and The Norwegian Electric Vehicle Association are featured in the video about renewable energy. Watch Tom Lindberg speak about the differences in emissions between vehicle types and Christina Bu, Secretary General, Norwegian Electric Vehicle Association, explain how Guarantees of Origin help the Norwegian Electric Vehicle Association's members ensure that the energy that their vehicles consume is documented with renewable energy. Guarantees of Origin are an important tool for electric vehicle owners who wish to make good climate choices.
Trains running on renewable energy
Trains can run on fossil fuel or renewable energy. ECOHZ ensured a carbon free travel to COP 21 by a network of trains from Asia and across Europe to Paris was running on renewable energy. The trains were full of official delegates and journalists going to COP21 in Paris.
Ecohz provided Guarantees of Origin (GO) to guarantee renewable energy consumption and the trains contributed to producing new renewable energy thanks to an agreement between ECOHZ and the International Union of Railways (UIC). Ecohz delivered a GO2 solution that unleashed financing of new renewable energy production.
"We are delighted to support carbon-free travel to a United Nations COP meeting. The use of renewable energy is a key issues for our future. The UIC strategy for 2030 and 2050 aims at carbon-free railway operation in Europe and very-low carbon rail transport worldwide." Nick Craven from the International Union of Railways.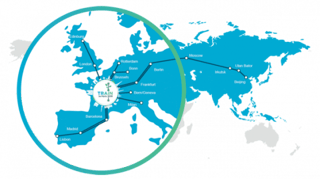 A network of trains will arrive in Paris from Asia and across Europe, bringing official delegates and journalists to COP21. Trains departing from Beijing, Ulan Bator, Moscow, Berlin, Bonn, Rotterdam, Brussels, Milan & Lisbon will enjoy carbon-free travel. In fact, most of those trains will even contribute to producing new renewable[…] Read more …