When should corporates choose I-REC as their renewable energy solution?
In most countries where I-RECs are issued it is impossible or very complex to enter into PPAs or other documented renewable physical supply contracts. I-RECs are therefore often the only feasible solution in these countries. I-REC is a global standard that builds on best practice from the North American RECs market and Europe's Guarantees of Origin system. It is an effective and recognised tool for documenting zero emission electricity consumption for your operations and improve your sustainability rating.

The International REC Standard is complimentary and not competitive – meaning it will only be available in countries where there is no other market-based tracking system. Two good examples are Japan and Australia, they have their own national tracking system, so I-RECs will not be used in these countries.
Where are I-RECs available?
In 2022 I-RECs are issued in 51 countries, indicated by the blue countries. New countries are added regularly,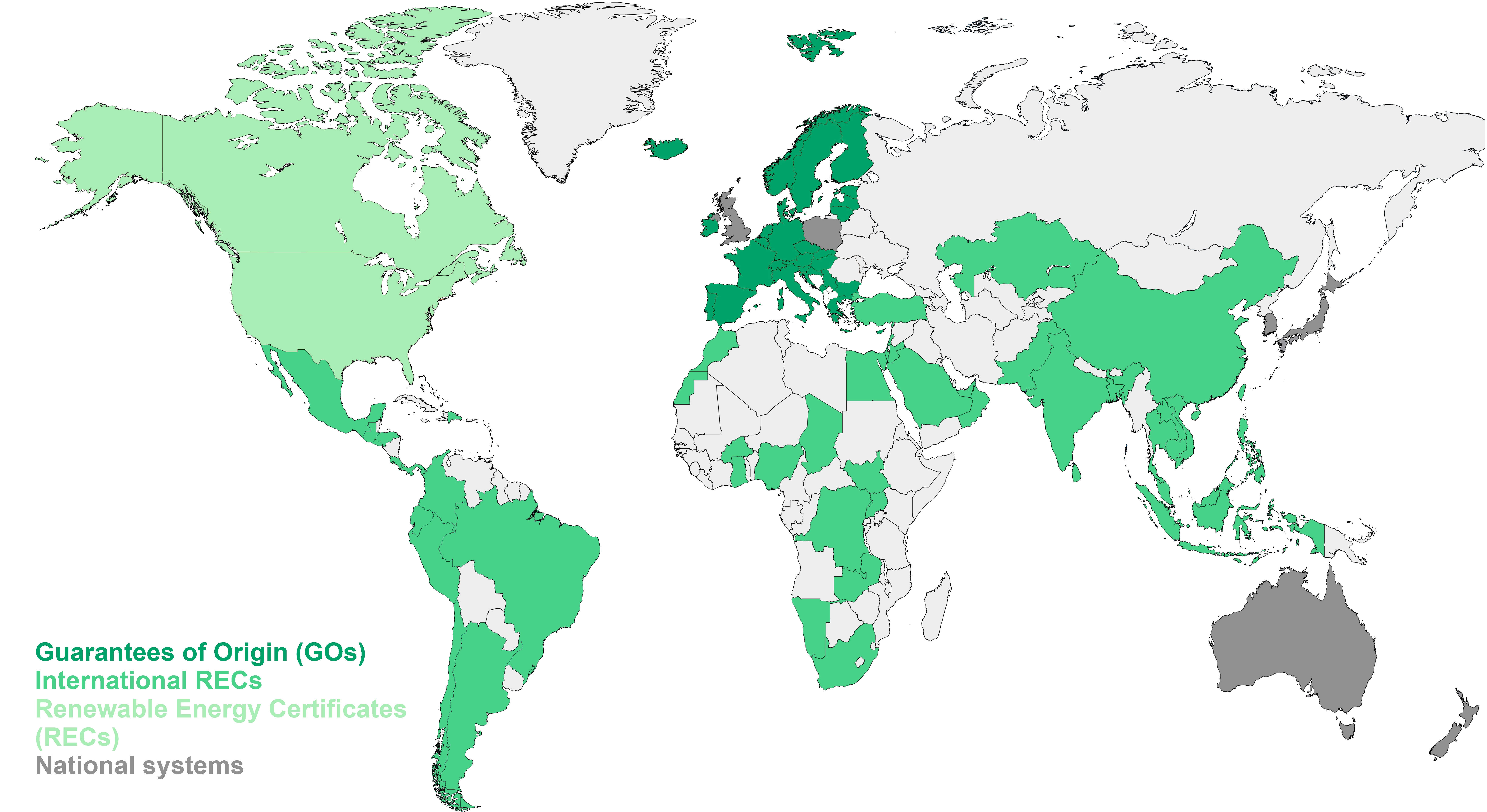 How is the purchasing process of I-RECs?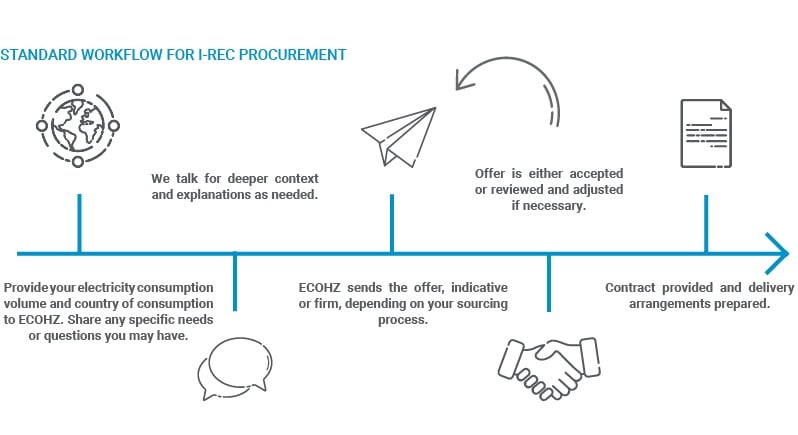 Ecohz will not source I-RECs from projects that already offer carbon offsets for the same MWh thus avoiding any discussions around double counting. The only attributes from the power plant we source are I-RECs.
Ecohz also avoids sourcing I-RECs from big hydro power plants with poor CO2 performance or power plants that have a negative social impact, for example displacing villages and people because of the project. The power plant needs to not only provide renewable energy but also be sustainable in its surroundings.
What to do if a country or renewable energy power plant is not I-REC registered?
Often our customers have operations in a country that is not in an approved I-REC country, or the renewable power plant in the country is not verified for I-RECs. Then Ecohz needs to go through the process to get the country and power plant registered.
What is good practice for I-REC sourcing?
There are different references for "Good" practice relative to the purchase and reporting of I-RECs.
The Greenhouse Gas Protocol Scope 2 Guidance (GHG-P) which came out in 2015 and is the most general reference. The GHG-P gives a framework for implementing and reporting consumption of renewable energy leaving room for flexibility for each company on how it implement the reporting. The GHG-P in many ways "sets the scene" for other guidance references.
The most used specific guidances for corporations are from CDP and RE100
In 2021 CDP had around 13,000+ responding companies reporting in detail their energy use. The CDP questionnaire is adopted by practically all major corporations. Respecting the CDP recommendations and achieving a high CDP score is an important reference for most companies.
The RE100 guidance for its members is more restrictive than CDP. RE100 expects their members to be leaders and go further. The guidance gives categoric recommendations on what is accepted for their members' reporting of renewable energy consumption.
Common for all the references is the need to respect certain quality criteria such as vintage, attribute ownership and avoiding double counting.
For more detailed insight contact us
Ecohz maintains a global portfolio of I-REC power plants, with the ambition of providing multinational companies with a wide selection of options covering most regions in the world. With I-RECs we fulfil our vision of 'Changing Energy Behaviour' by helping companies find tangible ways to deliver on their renewable energy promises. The goal of consuming only renewable energy – a goal for many RE100 companies – is an ambitious one and I-RECs are part of the solution.