How we work
Global climate challenges call for increased focus on renewable energy and greater engagement by companies.
Renewable energy is a key element in any corporate sustainability strategy. By using and generating electricity from renewable energy sources, companies can improve their sustainability ratings significantly.
ECOHZ offers renewable energy solutions to electricity providers, businesses and organisations across Europe, North America, Asia, Africa, the Middle East and Latin America, providing renewable electricity from a wide range of sources and geographic regions.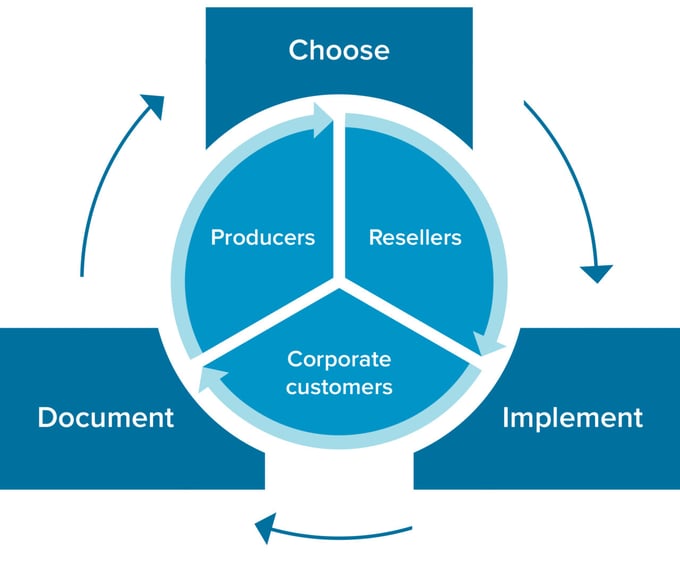 We take care of the entire process, helping you choose, implement and document renewable energy consumption and creation globally.
We work with producers, resellers and directly with customers to ensure that every step of the process works.
Choose
We help you clarify your needs, define your ambitions and find renewable energy solutions that suit your sustainability strategy. We share our knowledge openly.
Share our knowledge
Clarify needs
Measure / priorities
Define ambition level
Link to sustainability strategy
Solutions for renewable energy
Implement
We design cost-efficient renewable energy solutions that meet your needs and document the transactions through the entire value chain.
Innovation and effiency
Document the offer
Secure contract
Hand over
Document
We provide you with a confirmation and detailed information about your renewable energy solution.
Cancellation statements for audit trail
Detailed, adapted invoicing
Follow-up information
Market updates
Annual portfolio planning
We can provide a CO2 analysis and on-going communications support as part of a value added package
Any questions? For more information contact: